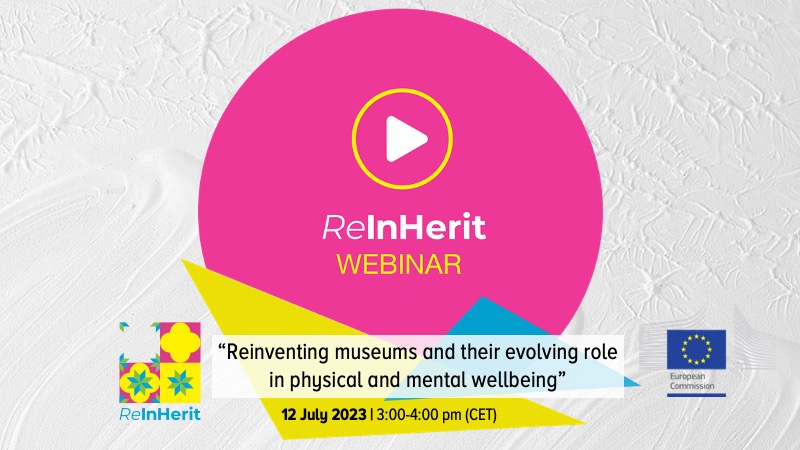 12 July 2023 from 3:00-4:00 pm CET
Facilitated by Ioanna Hadjicosti and Constantina Constantinou Bank of Cyprus Cultural Foundation, Cyprus**.**
Free Registration is open until 10 July 2023 (3 pm) ** HERE **
https://shorturl.at/cwDIU
The online webinar is limited to 50 participants on a first come, first serve basis. The webinar will be recorded and the recording video will be available in the resources section.
ReinHerit Webinars are aimed at cultural heritage professionals. They will consist of a how to guide for small and medium-sized museum and cultural heritage organizations that documents processes, provides instruction, technical requirements and best practices for co-creation and collaboration between museums and cultural heritage institutions.
The Webinars are organised in the context of the  Horizon2020 ReInHerit project, that aspires to disrupt the current status quo of communication, collaboration and innovation exchange between museums and cultural heritage sites, in a sense that it will connect cultural heritage collections and sites, and present Europe's tangible and intangible heritage to citizens and tourists in their wider historical and geographical contexts. The ReInHerit project is proposing an innovative model of sustainable heritage management, through which a dynamic network will be born; this network comprises cultural heritage professionals, innovation and cultural heritage solution tech experts, researchers, national museums, regional and local museums, and representative managers of Heritage Label sites. 
About this webinar:
The webinar examines the potential of reinventing museums through the role they can have in physical and mental wellbeing. The prevalence of mental and physical chronic diseases is increasing globally. In addition, the changing demographics towards an aging population pose a challenge to health care systems since aging is associated with a decrease in physical and mental capacity and an increased risk of developing disease. Museums may be integrated into the lifestyle of patients suffering from chronic conditions due to their value in offering non-pharmacological therapeutic methods to improve the patient's experience with disease. The interactive environment of museums may have positive health outcomes not only for patients with chronic diseases but also for improving the physical and mental wellbeing of elderly and younger populations. This webinar explores recent literature investigating the effects of art-based museum interventions on (a) patients with chronic diagnoses associated with mental health and/or physical impairment such as dementia, drug addiction and cancer, (b) hospitalised patients and (b) the wellbeing of young and elderly populations.  During the webinar recent studies will be discussed which provide evidence that museum art-based interventions may be integrated as part of the non-pharmacological management of patients suffering from chronic disorders and hospitalised patients as well as for improving the wellbeing of younger and elderly populations.
Speakers:
Dr Ioanna Hadjicosti - Director of the Bank of Cyprus Cultural Foundation and Coordinator of ReInherit H2020.She graduated from the Aristotle University of Thessaloniki, Greece, with the BA in Greek Philology and the specialization of Classics. She studied with the Scholarship of the Institute of National Scholarships of Greece (Ι.Κ.Υ.). She then pursued her studies in Classics at University College London (UCL) where she was first awarded the MA in Classics, followed by the PhD for her thesis with the title Aischylos and the Trojan Cycle: The Lost Tragedies. Her research is multidisciplinary combining literature, theatre studies, archaeology and history and her research interests mainly include ancient drama and epic poetry. From 2007 to 2016 she has working at the Bank of Cyprus Cultural Foundation as the Curator of the Collection of Manuscripts and Rare Books.  As a result, Dr Hadjicosti has organized and managed a series of events, exhibitions, educational programs and conferences, while she has participated in several research programs concerning the Collections of the Bank of Cyprus Cultural Foundation and edited a number of the Foundation's publications. Since November 2016 she is the Director of the Bank of Cyprus Cultural Foundation, having the responsibility to design and implement the new strategy, organize the yearly program of events and supervise the research programs of the Museums and Collections. She also participated herself as a researcher in various European programs receiving the Best Practice Award for the Grundtvig Workshop 'Modern Views of Greek and Roman Antiquity', by the Lifelong Learning Programme Grundtvig 2011-2012. She is currently acting 1) as the co-ordinator in the programme DIDAKTOR (Post-Doctoral Researchers) RESTART 2016-2020, Research Promotion Foundation: «Aspects of multi- confessionalism and human geography in early modern Cyprus from the Venetians to the Ottomans» (CyChrist) and 2) as the co-ordinator in the programme EXCELLENCE HUBS RESTART 2016-2020, Research Promotion Foundation: «Re-inventing age-old travel paths of the Levant: The example of Cyprus» (ReTraPath). She is currently the coordinator of the project "Redefining the future of cultural heritage, through a disruptive model of sustainability" funded by the European Union's Horizon 2020 research and innovation programme under grant agreement No 101004545.
Dr Constantina Constantinou is an Associate Professor of Cancer Biology at the University of Nicosia Medical School. She holds a BA Degree in Biological Sciences with Distinction in all subjects (concentration in Microbiology) (Cornell University, USA), an MSc in General and Medical Microbiology with Distinction (University College London, London, UK), a PgCertHE (University of Hertfordshire, UK) and a PhD in Biochemistry and Molecular Biology (St George's, University of London, UK). Dr Constantinou held post-doctoral research positions at St George's University of London, UK and at the University of Cyprus. Dr Constantinou joined the University of Nicosia in the Department of Life and Health Sciences in 2010 as Associate Professor in Cancer Biology. She has held numerous positions such as Director of the Doctor of Medicine (MD) undergraduate programme, Director of the PhD Progamme and Associate Dean for Research. She is a Fulbright Scholar and has also been awarded scholarships  from the A. G. Leventis Foundation, the Overseas Research Awards Scheme (ORS) and the Wellcome Trust Value in People (VIP) Award. Her research interests include cancer biology and oncology (molecular pathways of tumorigenesis) and the role of lifestyle medicine (nutrition, exercise, sleep, avoidance of risky substances, stress management and social relationships) in the  prevention and management of chronic diseases. She has participated in a number of research projects funded by national, European and international agencies. Her research work has been published in high-impact factor journals.